Find the best mortgage for your new home
You finally want to buy your own home. We show you what you should know and help you with the mortgage even without much savings. 
With Justhome you get the perfect mortgage for you
Make it digital.
We know how you want it. We don't have a printer at home anymore either. 
Decide yourself.
We are not here to sell but to help. With us, you get advice that suits you.
Boost your budget.
You have little savings? We at Justhome are experts for that.
You should be able to afford your own home.
Are you worried about being priced out of the market or you couldn't afford a home? We believe normal, hardworking people should be able to afford a home they love without being taken advantage of. We believe part of the problem is also the opaque mortgage market. There are solutions that many banks and mortgage brokers don't like to talk about.
Many of our clients - young couples, singles, families, people like you and me - have experienced being sorted out by banks. Often because their equity was not enough to cover the transaction costs. We think that's wrong. People who work hard and earn good money should be able to afford their own property.
We help you do this!
We're your team of tech and financing experts who can help you find the best mortgage for you - with or without a lot of savings. Our advisors have accumulated more than 60,000 hours of experience building the perfect financing.
Access our free Learning Center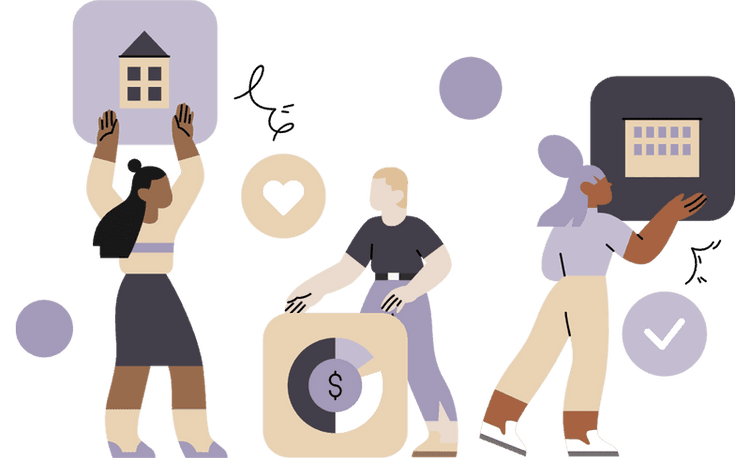 This is how Justhome works
You want to buy your home soon? We accompany you step by step. With us, you are in control all the time.
Request mortgage in 5 minutes

Give us a little bit of input about your plan. We then automatically assess mortgage offers from hundreds of banks and show you the best rates. Already more precise than in most other places.

Refine the offer.

Book an appointment with one of our experts to complete the information for the mortgage application and receive tailored and binding offers. For any questions along the way, find the answers in our Learning Center.

Confirm the offer.

We make everything possible from our side to enable you to do everything online. Some banks might still ask for a signature on paper but we would warn you in advance.

Enjoy a home you love.

We make homebuying a lot easier, at least the financing. But it will never stop being a big undertaking. Make sure you celebrate once it's done.
Find all the information you need in our Learning Center
Insider tips, smart calculators and step-by-step guides for all projects